Careers at Bamboo Nine
Do you want to work in a thriving digital media agency? We're always on the lookout for the very best in the sector.
Even when we're not actively hiring we're always interested in hearing from you, so why not get in touch?
Current Roles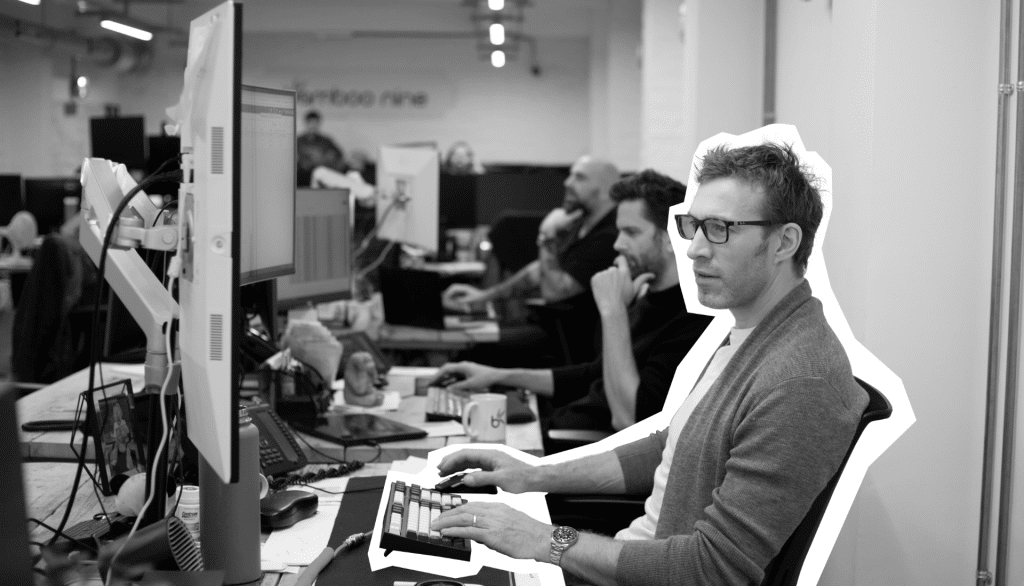 Is Bamboo Nine right for you?
Here at Bamboo Nine it is no coincidence that our staff turnover is so low. We truly care about our company culture, putting a strong emphasis on work life balance and employee happiness both from a work and social perspective.
Whether you are the kind of person who enjoys sampling one of Brighton's amazing pubs or restaurants during an extended Friday lunch break, and who relishes the idea of regular team socials including both Christmas and Summer parties. Or, enjoying a slice of home baked cake with an artisan tea, all whilst giving Eva the office dog a stroke is more your style. There truly is something to make you feel happy at work.
From a career perspective we also have you covered. You will get the opportunity to hone your skills on large, exciting client accounts whilst working with some of the brightest minds in the industry, while simultaneously being given all the tools you need to help you progress as far as your ambition desires.
So really only one question remains… what are you waiting for?
Why join the Bamboo Nine team?
Scottish Widows Pension
Enhanced maternity, paternity and adoption benefits
28 days paid annual leave plus bank holidays
Personal development plan with biannual reviews and objective setting
Annual pay review
Regular employee training sessions
Opportunities to attend industry conferences
Christmas and Summer company parties
Regular office socials
Friday team long lunch
Office closed between Christmas and New Year
Referral bonus for introducing new employees
Birthday gift from Directors
If you have a baby, we will deliver a package of healthy ready meals so dinner is on us!
Weekly local artisan teas and coffee delivery
Weekly fruit and milk delivery
Home baked cakes and treats
Pool & ping pong table
Central Brighton location
Organic promotions (we promote within)
Beer & gin fridge
Wired Sussex
We sometimes advertise for new roles on our company's Wired Sussex page. Please do create a job alert for when we do post our latest roles on Wired Sussex.
Brighton & Hove Living Wage
At Bamboo Nine, we have made a commitment to pay employees fairly and are proud members of the Brighton & Hove Living Wage Campaign, discover more about this campaign and our commitment on their website
Our Manifesto
We have pledged to help make Greater Brighton the best place in the UK for anyone to have a fulfilling career in the digital sector, by signing up to the Skills & Talent Manifesto.

We Believe That
People are truly our greatest asset. Talent is widely distributed but opportunity is not, and that must change
A developing and ambitious sector requires people to learn throughout their lives as well as when they are in education
Collaboration is our competitive advantage: all boats rise with the tide

We Aspire To
Ensure that anyone is able to build a fulfilling career in our digital, media and tech sector
Create strong and effective partnerships between the education system and our sector
Enhance our region's reputation around the world for openness and creativity, and as a fantastic place for people in our sector to live, grow and succeed

We Commit To
Undertake our recruitment in a way that ensures we seek out and recognise talented people from every part of society
Create an inclusive and supportive workplace culture
Share and promote our best practices with others in our sector
Encourage and support initiatives to make our region accessible, affordable and welcoming to all talent, from anywhere
Get in touch with us today