Improve your brand awareness through social media marketing services
Having a social media presence is crucial for any business. Today, simply having a Facebook, Instagram or LinkedIn profile isn't enough. For a business to succeed through social media, you need a social media marketing agency that can create tailored campaigns to ensure your posts inspire, engage, entertain and ultimately compel audiences to action.
When this is done right, it can increase your online traffic, resulting in more leads, more sales and increased brand awareness.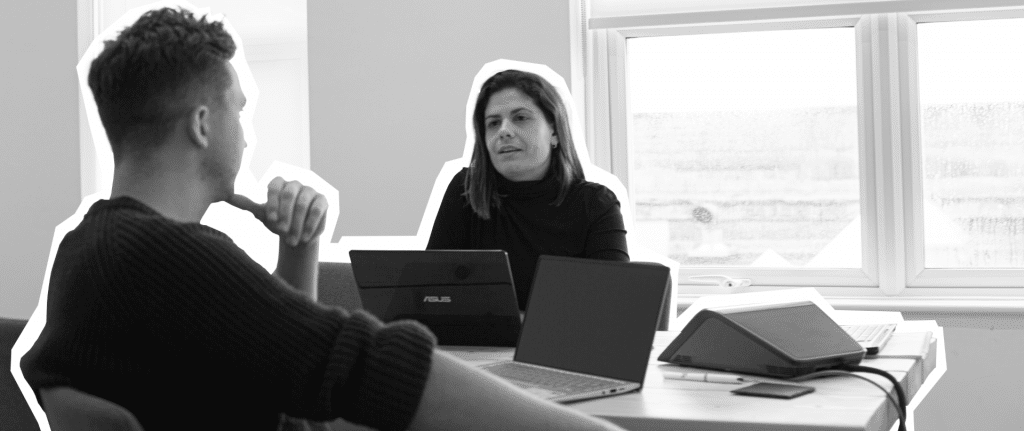 Why is a social media presence key to audiences?
Many clients and customers now use social media as their first point of research before engaging with a company. Unattended accounts can make them question whether a company is currently operating, whereas no social media account leaves people to question the success or even efficacy of a business.
We specialise in both paid social and organic social media marketing. When they are combined, they work together to create campaigns that are tailored to your brand and fully optimised to ensure we're targeting your audience. Paid Social Marketing
Establishing your goals
As a collaborative social media agency, we take pride in working closely with our clients to ensure we're on the same page regarding their paid social media campaigns. By establishing your goals early, we can create bespoke campaign strategies to ensure we hit the ground running.
We want to see your company succeed, which is why we work with you to set specific goals and KPIs (Key Performance Indicators).
Determining your budget
Paid social media advertising can transform your business and it's important that your budget matches your business objectives. For those new to paid social ads, setting a budget can seem like a daunting task. That's why we have a team of paid social specialists to help advise on your paid social media journey to ensure you get the best ROI.
Targeting your audience
If your paid social spending is targeted at the wrong audience, you're not going to see many of the benefits. That's why we work with you to understand who your audience is, what they are looking for, and how you can help. Targeting the right audience will have a significant effect on the success of your business – and we have the knowledge and skillset to identify your target demographic.
Detailed reporting
Transparency is at the heart of what we do and that is why we provide detailed social media reporting every month for both paid and organic social media. Our reports measure and highlight the effectiveness of your entire social media campaign. From the success of individual posts and ads per platform to full monthly campaign breakdowns and year on year comparisons, we monitor every metric closely to ensure your campaign is performing at its peak potential.
With Bamboo Nine, you will have full access to your reports and how your investment is being spent. Organic Social Media Management
Improving your brand awareness
Consistent social media management is always working in the background to improve onboarding and retention. It allows prospective customers and clients to learn about you, even when they're not looking. A professional social media strategy is crucial because it:
Helps new audiences discover your business when searching for similar products and services you offer
Engages with your current customers and clients to ensure you're always present
Identifies similar accounts or posts they're following and 'liking'
Uncovers whether potential customers and clients are local to your area
Simply put, the more consistent your social media output, the more recognisable your posts are, raising your brand awareness, online and off.
Understanding your audience
Social media analytics offer new, in-depth insights into your target audience. It reveals demographics, behaviours and untapped opportunities that your business can then reach out to.
A strong social media following also offers real-time reactions to your campaigns, products, and services. This is invaluable and cost-effective market research that allows for immediate responsiveness and in turn, informs future campaigns, large and small.
Combining paid social with organic social media
We specialise in organic SEO, organic social media and paid social media management; all of which work together to create strategic campaigns that all parties benefit from.
You need high-quality SEO content to grow your website and increase its visibility in the Google ranking positions. In turn, this provides content for organic social media posts that generate clicks from your engaged audience. Finally, paid social makes your organic efforts count by boosting the effectiveness of these campaigns, re-targeting engagers and bringing attention to your company.
Increase Your Online Presence.
Get Your Audience Engaged.
Protect Your Brand.
Find out about our Organic Social Media Marketing services