The Secrets of Great SEO Copywriting
Putting quality, keyword-driven content on your website is essential for good SEO. Effective SEO copywriting allows your website to climb up the Google search rankings, establish your brand, and get backlinks from reputable sites. In this guide from Bamboo Nine, a Brighton-based digital marketing agency, we'll take you through the world of SEO copywriting, look at some of the best practices for writing great SEO copy, and a few of the mistakes to avoid.
What is SEO?
SEO, short for search engine optimization, is a range of actions taken to improve a website's ranking within Google (or other search engines). This can involve technical improvements to the website, backlinks to the website from other reputable sources, and putting keyword-focused content on your website. For a full breakdown, we have an article that breaks down what SEO is and its core functionalities.
This SEO content can either be specific landing pages built on keywords, or keyword-focused articles designed to engage visitors and raise the profile of your website or brand. The purpose of targeting keywords is to rank higher on Google for those keywords, helping your website to gain visitors and business.
What is Copywriting?
Copywriting is defined as text written for the purpose of advertising. It can be written to raise awareness of a brand, or to target sales of a specific product or service. Copywriting can aim for a general audience or can be targeted at specific groups of people. Historically, copywriting has been used for everything from newspaper ads, to tv commercials, all the way up to modern website copywriting.
What is SEO Copywriting?
SEO Copywriting is the fine art of writing content (copy if you like) for websites, intended to boost the visibility of the website, by targeting specific keywords related to the website. This could be writing a product page that targets a product search term e.g. "Glass Cups", a page for a business targeting a specific location e.g. "Glass Blowing Lincolnshire", or a blog post designed to get relevant traffic to a website e.g. "The Five Mistakes Novice Glassblowers Make". SEO copywriting can be undertaken by the owner of a website or can be written for you by copywriting services.

What Are the Best Practices for SEO Copywriting?
Great SEO copywriting is more than just compelling writing, though that is certainly important. Here are 8 attributes of the best SEO copywriting.
Start With Your Keywords
There are a variety of research tools available to locate relevant keywords, such as SemRush or Google's Keyword Planner. Website copywriting should be written to target keywords, whether that be for a product description or a question. Before you start it's important to do your research so that you can be sure you are writing an article targeting a relevant keyword. Keyword research software will allow you to see related keywords, but you should also read analyse the Google search result pages for your keyword, to get an idea of what others are writing about the subject.
Plan in Advance
This may seem obvious, but it needs to be said, you should research and plan your articles in advance. By looking through the results currently ranking for your keyword, having a thorough understanding of your website, and establishing a clear and engaging structure in advance you will save yourself time and help you write the best SEO copy.
Keyword-optimised Headers, Page Titles, and Meta Descriptions
Within your article there will be a header (known as an H1), a page title, and a meta description. Page titles and meta descriptions are parts of your page's HTML that will form the heading and subheading within the search engine results page. Including the full keyword in each of these is one of the best SEO copywriting techniques. Say, for instance, that your keyword is "Used Nissan Micra". That would mean that the headline, the page title, and the meta description should all include the phrase "used Nissan Micra". More than that, each of these must be written to engage a reader, encouraging them to click your link and read your article (while remaining honest about the content of it). Have a look through this article now and check the headings to see how I've tastefully deployed the keyword "SEO Copywriting" throughout.
Consistent and Engaging Tone of Voice
Your website should have a consistent tone of voice throughout its content, established within a centralised style guide. This guide should cover things like the formality of your language, how you refer to your own company, and the kind of words you want to avoid using (a popular example would be "Cheap"). A benefit of this is consistency in voice regardless of who writes copy for you. While your tone may be formal, informational, or casual, you should always write to engage a reader. Using emotional language, varied sentence lengths, and avoiding repetition is a good place to start. You should work to make your copy as readable as possible. Much as you may want to showcase your erudition, the role of the copywriter is to engage all readers, not to show off. Your keyword and any associated keywords should be used throughout the article, but only to a tasteful degree.
Correctly Structured Articles
Your article could be the most effective sales pitch for a product ever written, but if it's presented as a page-long block of text there's little chance it will rank well, or engage those who click through to it. Your article should be structured in paragraphs, with subheadings throughout. A great SEO copywriting technique is breaking up your copy further with bullet points, numbered lists, pictures and videos, which will help it to engage readers. Associated keywords can be a great source of subheadings, and can gain additional traction from those searches while allowing readers to quickly find the information they need within your article. This article for instance has an introduction, three short definitions, then two sections both split into sub-sections, ending with a CTA. This is a good way to split up content, both keeping a reader's attention and allowing them to look for specific information they want.
An Appropriate Call to Action (CTA)
A CTA is a call to action, a marketing term describing the use of words to encourage immediate action from a reader. CTA's are always deployed in the best SEO Copywriting, particularly on transactional pages. Including a CTA in your page title, metadata, introduction, and conclusion can help get your reader into the mindset of engaging with your business. Examples such as "Sign Up Today", "Get a No-obligation Quote Now", or "Get the Keys to Your Used Nissan Micra Today" can rouse a reader into action.
A Solid Word Count
There is no such thing as an ideal word count for a piece of SEO copy. But if you want to rank on Google, writing in-depth and useful content is a must. This requires a larger word count, particularly if you are looking to rank for an informational article about a complex topic. Articles of 2000 words or more can make for an excellent traffic driver. It can be a good idea to look at the length of the other pages ranking on Google for your keyword and aim to write something slightly longer.
A Scrupulous Edit
Once you've written your article, the essential final step is to rigorously edit it. Check that it is well structured, that keywords are tastefully deployed throughout, that all the information within it is accurate and that it makes sense. Once you're sure that your article is clear, readable, and written in the brands' voice, it's time to check for spelling and grammar errors. Using spell check or a program like Grammarly is a good idea, but you should read through your article several times, to make sure you don't leave any glaring errors.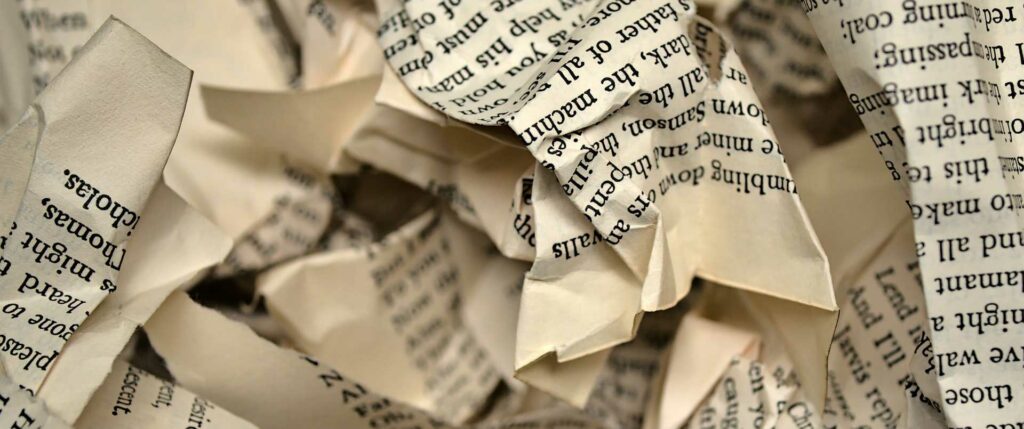 Mistakes to Avoid in SEO Copywriting
SEO copywriting requires engagement, knowledge, and research. There are several basic mistakes that can easily be made when writing keyword targeted copy for a website:
Losing Track of Your Target Audience
Having a clear brand identity and a researched keyword is a great place to start. But it's vital that you keep track of the purpose of the article throughout the writing process. If you are writing a page designed to advertise a product or service, then that should inform every stage of writing, emphasising the benefits your brand can provide. Keeping the target audience in mind is also vital, if you are writing an article for people within a specific industry, you will not need to explain certain terms, while if you are writing for members of the public you might have to. SEO copywriting is all about writing for an audience, and that should be considered in every aspect of your copy.
Keyword Stuffing
While using keywords throughout SEO content is important, your article should be readable and the uses of keywords should feel natural. Keyword stuffing is a practice of overusing keywords or outright pasting them repeatedly into an article. Excessive keyword density will gain a penalisation from Google, but lower level stuffing will simply turn readers and potential customers away.
Here's a quick example of keyword-stuffed SEO copywriting:
"We sell used Nissan Micra's. Our used Nissan Micra's are excellent. If you're looking for a used Nissan Micra browse our range of used Nissan Micra's today"
This isn't necessary, or good, and will not help your website rank in the long term. Here is an example of tasteful keyword deployment:
"We have a great range of used Nissan Micra's for sale through our website. We rigorously test all of our cars before sale, offering a month no quibble return window"
This will gain the keyword traffic from Google whilst also being appealing and readable to those who click through to your web pages. Deploying keywords is a balancing act, with certain keywords far easier to deploy throughout a piece of copy than others (for instance, if your keyword is "how long is a piece of string?" then you will probably only be able to use it within headings).
Not Understanding What You Write
Writing the best SEO copy requires both malleability and a research-oriented planning process. A grave error in SEO copywriting is not understanding the topic you are writing about.
If you are targeting a product or an informational article at someone within an industry, it will be very obvious to them if you don't understand the topic at hand, in both the tone of writing and the appearance of small errors. This will mean that your sales pages and your informational pages will lose a reader's attention. It's not enough to deploy keywords, CTA's, and emotional language if you the writer do not fundamentally understand what you are writing about. Writing quality content will drive viewers, increase link building, and ultimately improve the conversion rate.
Our SEO Copywriters
At Bamboo Nine, we have a growing team of SEO Copywriters who create brilliant keyword-driven content for our clients. Adding high-quality copy to our clients' websites is a key aspect of our SEO campaigns, helping them to target valuable keywords, build their brand image, and drive impressions and sales.
Our copywriting services are of great benefit to many different brands we create content for, producing several types of content including tailored landing pages, bespoke product pages, and engaging traffic-driving articles (like this one). We also work to improve the user experience of a website, with our team of web designers streamlining and improving our clients' sites. As a business we prioritise transparency and ethical practices, organically increasing the rankings of our clients through keyword research, technical SEO improvements, and SEO copywriting services.
To find out how your business could benefit from an SEO campaign, talk to a member of our team today.