Should Brands Engage in Advertising Boycotts?
The extent to which brands should engage politically within their advertising is a controversial topic, with some praising the use of large platforms to argue for political causes as a boon to social progress, and others decrying the commandeering of genuine political movements by profit-driven companies as insincere and unhelpful. 
While advertising was once largely apolitical, to avoid the perceived dangers of antagonising customers, this is no longer the case, with 70% of consumers saying that brands should get more political in 2018.
For many vocal consumers, it's not just the content of adverts, but their placement that needs to be carefully considered. While marketers have always tailored the locations of their ads around target audiences, many contemporary websites, channels, and publications have been targeted by so-called advertising boycotts, where companies are pressured to pull advertising on their services.
In some modern cases, these boycotts have come from the industry side, with advertisers worried about unstable platforms and unwanted content.
What are advertising boycotts?
Historically, advertising boycotts have been industry-driven and associated with conservative politics. An example would be how General Motors refused to advertise during any film or TV show featuring Jane Fonda, due to her stance against the Vietnam War. But in most cases, the placement of advertising was decided by an agency looking more at demographics and costs than specific placements, and companies would not have known where their advertising would be shown.
In an increasingly polarised world, and a world in which social media allows groups of people to loudly embarrass corporations, things have changed. Whether it be a website, a social media network, or a sporting event, large groups of people can organise campaigns to pressure advertisers to pull support, directly challenging companies to stand up for the values they claim to hold.
Qatar World Cup
The 2022 World Cup has been surrounded by controversy since Qatar was announced as host, with FIFA increasingly seen as an untrustworthy ambassador for world football (epitomised by the six-part "Corruption" section on their Wikipedia page), and Qatar itself condemned for their human rights abuses and use of forced labour by Amnesty International, alongside their draconian laws against gay people.
The World Cup has long been one of the biggest marketing events in the world, and this year's has not seen a dramatic decrease in advertising, laying bare that the bottom line will usually take precedence. With billions of viewers across the globe, major companies will happily take the hit across social media that comes from advertising.
There are a few recognised brands who have taken a stand, with Lucozade removing all branding from events, Brewdog putting out "funny" advertising about FIFA's alleged corruption, and Danish kit designer Hummel debuting a World Cup outfit where labels were toned down to the extent they were nearly invisible. But by and large, advertising was consistent with previous tournaments.
The Qatar World Cup has been an interesting lesson for advertisers and consumers about the effectiveness of such boycotts. The England v USA group stage match attracted the largest audience of the year for ITV, including the largest 16-34 audience, the group famed for its involvement in online campaigns. While there has been a great deal of awareness raised about Qatar, boycotts appear to have been ineffective at stopping real engagement.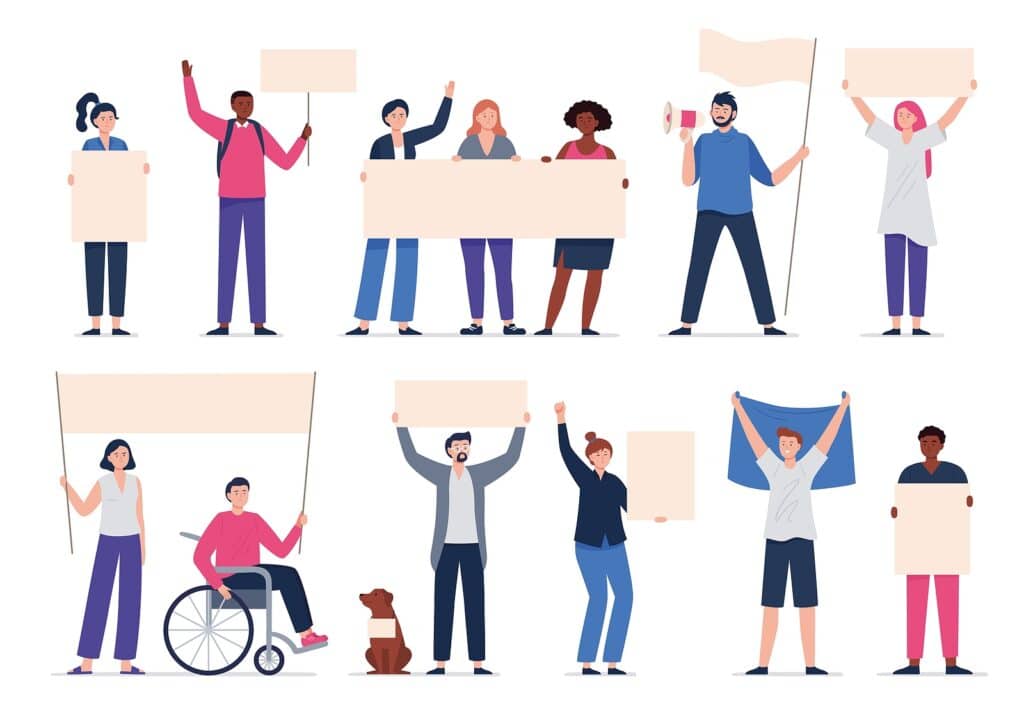 Twitter
The 2022 purchase of Twitter by Elon Musk, following a bizarre sequence of events too convoluted to summarise in a paragraph, sent shockwaves across the popular social media site. Musk, the world's richest man, has a long history of tweeting things that, for the sake of this article I'm writing for my employer, I'll simply call misguided, whilst Twitter has spent its life haemorrhaging money. After Musk's acquisition was formalised, there was much speculation about the future of the site.
The following weeks brought much instability to the Twitter company, with layoffs of around 50% of staff and a wave of resignations. Musk's free speech agenda also quickly began butting heads with Twitter's established moderation practices. This, combined with the perceived instability of Twitter as a platform, caused a mass pause in advertising campaigns from top brands including Kellogs, Jeep, and Mars.
While there has been fear from consumers about the flood of objectionable content that could be posted to Twitter, what's interesting about this advertising boycott is that it has essentially been undertaken entirely from the corporate side.
While corporations understand that they need to advertise online, and that advertising through social media sites like Youtube and Facebook can mean that occasionally their messages will be displayed on content that doesn't align with their brand values, there is an expectation that rigorous practices will be in place to minimise instances where this happens.
GroupM, the biggest media buying agency in the world, warned clients about the high risk of placing ads on Twitter, and laid out a series of policy changes they would need to see to remove this warning. These included repopulating diminished moderation teams, committing to returning to previous baseline levels for acceptable content, and a demonstrated commitment to content moderation, concerning both hate speech and account impersonation (another problem introduced by new changes).
As of the time of writing, the future of Twitter suddenly seems murky. Elon Musk tweeted "Twitter has had a massive drop in revenue, due to activist groups pressuring advertisers", which is a novel interpretation of events but shows that the loss of advertisers is having a profound effect on the company.
Advertising accounts for 90% of Twitter's turnover, and with an increasing number of advertisers wary about the platform, and apparent threats from Apple to delist their app, there seems a growing possibility the platform could collapse from the effects of an advertising boycott.
Facebook
In the summer of 2020, the documented murder of George Floyd by police officer Derek Chauvin caused widespread protests against institutional racism and violence, unfolding across America and the wider world. In the wake of these protests, two posts by then-president Donald Trump drew condemnation and were left uncensored by Facebook.
Amid concern and anger over Facebook's tolerance of hateful content, the Stop Hate for Profit campaign was launched, with backing from groups like the ADL, NAACP, and Sleeping Giants. Their demand was simple, for advertisers to pause all spending on Facebook and Instagram ads over the coming month.
Despite some criticising the scope and aims of the boycott, a huge number of companies signed up, from Unilever, to Coca-Cola, to Adidas. In response, Facebook founder Mark Zuckerberg met with organisers, and the site made some moves to police content, including banning pages associated with Q-Anon, a mouth-frothing far-right conspiracy theory.
The consequences for Facebook were mixed, but truthfully far less damaging than the current Twitter boycott. Following Unilever pulling their ads, Facebook's share price dropped 8.3%, and there were reductions in ad spending from the top 100 advertisers. However, these 100 advertisers only account for around 16% of the business, with much of Facebook's ads coming from smaller businesses that rely on it to find customers, and so could not easily pause advertising.
These events added to the swirling reputational damages surrounding what is now called the Meta corporation, and forced a few structural changes, but didn't drastically impact their bottom line.
Do Advertising Boycotts Work?
Boycotts are often seen as more effective at damaging the reputation of a company than impacting its financial future. Certainly, when people think of companies like Facebook or Twitter, the controversies around their content moderation will be one of the things that come to mind. Other brands like Nestle, Coca-Cola, and Gap have seen their reputations muddied through consumer campaigns and investigative journalism.
An advertising boycott will perhaps have more of a financial impact than a traditional boycott aimed at the consumption habits of individuals. In the current age, putting pressure on the PR wing of a company can also be a canny method to put their progressive credentials to the test.
When it comes to a smaller site or event, many will be willing to walk away and cut all advertising permanently. But when it comes to larger events like the World Cup, the amount of exposure is simply too high for most companies to take a stand. The ongoing boycotts of Twitter are an interesting contrast, driven by an advertising industry concerned about their messages being placed alongside offensive or illegal content.
Ultimately, this kind of targeted campaign has proven effective enough that it is likely to continue as a strategy, even if the results are perhaps a little more symbolic than desired.
Should Brands Participate?
Modern brands exist at a deafening intersection of capitalism, social media, and click-driven news organisations in terminal decline, where participation seems all but mandatory. If a company wishes to exist as an online entity, then it will need to produce a rigorous moral docket.
This is further complicated by a messy truth, that the fundamental mechanics of capitalist endeavour often clash with progressive values. Contemporary brands will therefore need to navigate a minefield, seeking consumer awareness and profits while engaging with the system enough to establish ethical bona-fides.
Customers have long grown wary of performative social engagement from brands, dubbed "woke-washing", with brands that enter the fray of a social issue expected to back up their sentiments with legitimate actions, be that commitments to sustainability, diversity and fair pay within their company, or support for charitable organisations.
Choosing to participate in an advertising boycott can therefore bring positive press and attention to a company, showing a willingness to sacrifice potential revenue for a good cause. The downsides will obviously be the potential drop in revenue for a company, or its ability to reach a target audience. This is crucial when it comes to social media sites, where smaller companies rely on advertising to generate business.